George Michael 1939-2009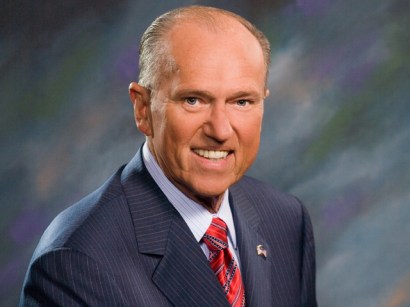 Photo from nbcwashington.com
The old Italians in our family always told us that "these things come in threes." One month ago we lost Abe Pollin. Today, we lost another longtime sports institution in Washington, D.C., George Michael.
Like many people we had some fun here at George Michael's expense from time to time. He was an easy target because of his larger than life persona and national recognition before the advent of cable television. George was about the only reason youngsters such as ourselves would bother watching the local news on a nightly basis growing up. He was great at making the sports highlights from the night before interesting and while his voice may have gone up a few decibels, he never had to resort to catchy phrases or other schlock to get them over. While ESPN and Sportscenter got on the air one year before the George Michael Sports Machine did; it is safe to say the Sports Machine was Sportscenter before Sportscenter was.
But what endeared George Michael to people such as ourselves was his willingness to show the highlights of and promote what some considered to be the "lesser" or "fringe" sports. George was especially famous for showing WWF/WWE/Professional Wrestling along with Rodeo and NASCAR highlights on his shows. But he also found time to include hockey. George was a big fan of the sport and the Washington Capitals and he would always promote the team back during the glory days of the mid-1980's when the Caps had one of the best teams in the NHL. He learned the sport during his stop in Philadelphia when the Flyers were winning their Stanley Cups and as a color commentator for the New York Islanders before coming to Channel 4 in Washington, D.C.
However, the thing that most stands out the most to us about George Michael was how genuine he was. You knew his relationship with Jim Vance was very close and that he loved what he was doing. He freely admitted that he was a tough person to work for but when budget cuts were forced upon him, he stuck his own neck out first and stepped down rather than see his staff waste away. You rarely if ever see people in the entertainment industry do those kinds of things.
While George Michael was one of the people downplaying the Caps' chances of making the playoffs late in the 2008 season, we happen to think that he wasn't very far off base. After all, it took some time before we came to believe in this team ourselves. We also happen to think that it is a shame that he won't be around anymore as the Caps head onto to winning their first Stanley Cup. You could say that his retirement was marred by his battle with cancer but Michael never announced that he was in that fight and did his best to keep active in and relevant on the D.C. sports scene. He was still shopping around his Redskins Report and Full Court Press shows in spite of the fact that he was insisting on "doing it right" which meant high production costs in an era of declining production budgets.
Old timers often say, "they don't make 'em like they used to" and it certainly applies to a man like George Michael because they really don't make 'em like George anymore.